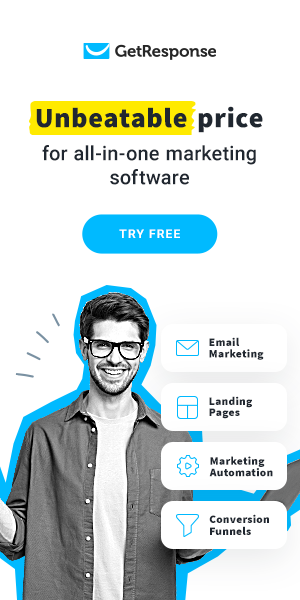 GetResponse in this in-depthreview, I take a look at a well-known email marketing solution and drill down into all its key pros and cons.
Founded in Poland in 1998, the company's initial focus was firmly on making it easy to send e-newsletters. In recent years however, GetResponse has shifted its emphasis considerably — the product now aims to be more of an 'all-in-one' e-commerce and online marketing solution, rather than a 'traditional' email marketing tool.
Accordingly, in addition to email marketing features, GetResponse now also provides a website builder, chat features, ecommerce features, webinar hosting, landing pages and automated sales funnels.
Getresponse Free — this free plan lets you use a cut-down version of Getresponse indefinitely, so long as your list remains under 500 records in size.
Email Marketing — this starts at $19 per month and lets you send an unlimited number of emails to up to 1,000 subscribers.
Marketing Automation — starting at $59 per month for up to 1,000 subscribers.
Ecommerce Marketing — starting at $119 per month for up to 1,000 subscribers
Max – custom pricing
Max2 — custom pricing.
As you add more subscribers to your list, your costs increase. At the top end of the scale, you can expect to pay $539, $599 or $699 per month to use GetResponse with a list containing 100,000 subscribers on the 'Email Marketing,' 'Marketing Automation' and 'Ecommerce Marketing' plans respectively.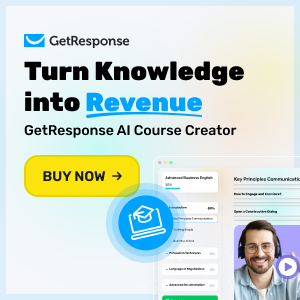 With regard to the 'Max' and 'Max2' plans, these are more 'enterprise level' offerings that provide advanced features (more on these in a moment). With these plans, exact pricing depends on requirements and list size — if you're interested in using either of them, you'll need to contact GetResponse to schedule a demo, discuss your needs and negotiate pricing
Decent discounts are available if you pay upfront for 1 or 2 years of service —18% and 30% respectively.
You can try the paid-for plans out for 30 days for free, via a trial that you can access here.
Key differences between plans
the ability to import and host a subscriber list
a range of e-newsletter templates
autoresponder functionality
a landing page builder
leads funnels
Facebook and Google Ad management tools
a website builder tool
Apps and integrations
If you want to integrate GetResponse with another platform or tool, there are over 175 integrations to help you do so.
You can use these to hook GetResponse up to popular ecommerce solutions and content management systems, including WooCommerce, Shopify and WordPress, as well as some CRM systems, like Capsule and Highrise.
There are quite a few useful Google integrations too. These allow you to import contacts; add Google Analytics tags to an email campaign; and link your landing pages to Google Ads in a way that helps you better measure the effectiveness of your PPC campaigns.
GetResponse also works with the syncing tool Zapier, which can help you connect it to other tools via 'zaps' – 'if this, then that' rules.
And, assuming you have the development skills to do so, you can also integrate GetResponse with other software by using the platform's API (Application Programming Interface). This lets you send and receive data to and from GetResponse in whatever way suits your application.
What's the best value GetResponse plan?
Of the plans under discussion, the 'Marketing Automation' plan probably represents the 'sweet spot' in the lineup. This is because it unlocks the bulk of GetResponse's feature set whilst remaining competitively priced.
Two key features included on this plan, automation building and webinars, make the upgrade from the 'Email Marketing' plan particularly worthwhile.
You can try out the 'Marketing Automation' plan here.
Data management and deliverability
Data capture and forms
There are two ways to use forms in GetResponse — you can either add a HTML form that you style yourself, or you can design your form in GetResponse, picking from a decent range of templates and tweaking them to match your site's design.
If you go down the latter route, you can add the form to your site using a snippet of Javascript code to display your form; this form can be presented in a range of different formats (for example bar, full-screen, pop-up box or slide-up).
You can use both the HTML forms and the javascript ones to capture data into standard GetResponse fields, or, if you prefer, populate custom fields.
And you get the option to send users an opt-in confirmation message or add users to an autoresponder cycle too.
Possibly the best aspect of the form creation tools is the level of control you get over how your popup forms are triggered — and the audience you'd like to display them to.
You get the option to specify what triggers your popups (timing, scroll events, page exits or inactivity); how many seconds to wait before showing them; and the devices you'd like to display them on.
(Not only can GetResponse popups capture email addresses, they can also be used to display promo codes or encourage site visitors to follow your business on social media).
These new controls give you a lot of flexibility over form implementation and represent a big improvement over GetResponse's old form designer (especially where form audiences are concerned – the old designer didn't give you any device-level controls at all).
Tip: remember to use pop-ups judiciously. There are certain situations where they can be a fantastic driver of sign-ups, but they can also impact negatively on your SEO – Google is not a fan of overly intrusive popups.
Data segmentation options
One of the things I like most about GetResponse is the way you can send emails to multiple segments of subscribers at once (or indeed exclude multiple segments). This is not the case with some of GetResponse's key competitors, including Mailchimp and Aweber.
For example, say you have a subscriber list in GetResponse that you've divided up into four segments:
Segment A
Segment B
Segment C
Segment D
With GetResponse, it's really easy to message segment A, B and C all at once (you just tick three relevant checkboxes). You could also message segment B and C and exclude segment D.
Not only can you message or exclude multiple segments at once, you can also do the same with individual lists — for example, if you had three separate mailing lists on GetResponse, you could mail individuals across all three of them.
The only thing to watch out for is that some segmentation options (based on scoring, tags, ecommerce and events) are only available on the 'Marketing Automation' plan or higher. But even so, the options available across all the paid-plans are extensive.
This sort of flexibility marks GetResponse out from its competitors and lets you really tailor your email campaign audience to the nth degree — of the similar products I've reviewed to date, only Campaign Monitor offers a comparable level of flexibility (and one that comes at a much higher price).
This approach to segmentation is also possibly one of the biggest arguments in favour of using GetResponse over key competitor Mailchimp, which doesn't unlock advanced segmentation features unless you are on the hugely expensive 'Mailchimp Premium' plan (which starts at $299+ per month).
GetResponse deliverability
The email deliverability rate — the percentage of e-newsletters sent that successfully reach your subscribers' inboxes — is obviously an important thing to look at when choosing an email marketing tool.
Not all email marketing providers are that transparent about their deliverability rates; but GetResponse seems reasonably open about this, with this to say about it on their website:
We are frequently asked about the quality of our deliverability rate. Because deliverability depends on many factors, including the content of your messages, the deliverability rate could vary for each mailing. For all our customers collectively, however, we are proud to say our overall deliverability rate currently stands at 99%.GetResponse
Obviously you are going to have to take GetResponse's word for this, but assuming it's true, it's a good deliverability rate and inspires confidence that the overwhelming majority of emails you send in a GetResponse email campaign will reach their intended recipients.
Furthermore, GetResponse actually gives you the deliverability rate of each message on your email analytics — this is something I haven't encountered on a lot of competing products' metrics. A thumbs up for this.
Finally, Custom DKIM — an authentication technique designed to enhance security for the senders and receivers of email — is also available on all GetResponse plans (even the 'Getresponse Free' one). This can further improve deliverability.
GDPR
When GDPR (General Data Protection Regulation) laws were introduced, email marketing got a bit more complicated. GDPR specifies stricter rules about what constitutes consent to receive e-newsletters (and requirements about how that consent is logged).
GetResponse is to be commended for providing users with clear information about what their GDPR responsibilities are, along with special GDPR fields that make it easier to log consent and comply with the regulations.
Additionally, you can enable two-factor authentication (2FA) for GetResponse login. This ensures that a user is granted access only after successfully presenting two or more pieces of information — for example, a password and a code generated by an authentication smartphone app.
Given that data security is a key aspect of GDPR, this is a good feature to have in place.
On the downside, and as discussed earlier, GetResponse's landing page feature is not GDPR compliant if you plan on using a Facebook pixel or other third-party cookie in conjunction with it — so there is definitely some room for improvement here.
Ease of use / interface
On the whole, GetResponse is pretty user-friendly. This wasn't always the case, but its interface was redesigned over the past couple of years and it is now easy to use, with key features easily accessible.
A fairly conventional drop-down menu gives you access to all the core features; and, thanks to a 'widget library' (pictured below), you can customize the GetResponse dashboard so that your most regularly used tools / data are easily accessible.
As for using the product, it's certainly easy enough to do all the basics in GetResponse — import contacts, create an email campaign, set up autoresponders and check statistics. In particular, and as mentioned above, the segment management is excellent.
And when it comes to GetResponse's more advanced features, like its marketing automation tools, the learning curve isn't too steep.
However, GetResponse's form designer and landing page creator tools could still benefit from a bit of a further overhaul — unlike most features of the product, they haven't been improved much as part of the interface revamp. They could definitely be more user-friendly.
In terms of how the GetResponse interface stacks up against those of its competitors, I would argue that Campaign Monitor is a bit more user friendly, and that the Mailchimp interface features a cleaner design. AWeber's interface probably comes closest in terms of look and feel.
Traditionally, GetResponse's main usability failing involved its email editor — it was clunky and buggy.
However, the new version of the email creator has improved things considerably — it's got a cleaner, more intuitive drag and drop interface; it doesn't crash; and it is easy to use.
It's probably not quite as good as those offered by some competing apps, but it's perfectly acceptable.
Customer support
Getresponse customer support used to be amongst the most comprehensive available for email marketing tools — the company offered phone support alongside live chat support, email support and various online tutorials and resources.
Sadly, the phone support has now been discontinued (unless you're on the enterprise level "Max2" plan). Instead you'll have to use live chat (24/7) or email support.
On the plus side, I have had extremely good experiences with GetResponse's chat service — I've never had to wait long to chat with an agent, and anyone I've dealt with has had a really robust technical knowledge of the platform.
And the email support provided by GetResponse is available in 8 languages, which is commendable. These are: English, Polish, German, French, Spanish, Italian, Russian and Portuguese.
Note: in the light of the Russian invasion of Ukraine, GetResponse has paused sales of its products in Russia and Belarus.
GetResponse review conclusion
Overall, GetResponse represents one of the more cost-effective ways to host and communicate with an email database. It's priced competitively in its marketplace, and is also one of the more interesting email marketing products that we've tested, in that it's not just about e-newsletters — it also facilitates ecommerce, sales funnels, live chat, push notifications and webinars.
It's hard to think of any competing email marketing solution that offers quite as much of an 'all round' proposition; this makes it a particularly good fit for new business owners without a budget to invest in multiple tools. Its 'Free-forever' plan is very generous too.
I've been particularly impressed by GetResponse webinar functionality — it's feature packed, and very good value for what it is.
Some improvements to GetResponse do need to be made however.
Probably the most important thing GetResponse need to look at is introducing a GDPR-compliant cookie consent mechanism for the landing pages.
The landing pages interface could do with an overhaul too — it could be more user friendly.
I'll sum up this GetResponse review with a rundown of the key pros and cons of using the product.